Surrounded by friends, family and fellow creatives 'Enchanted Unveiling', my latest collection, launched in the beautiful setting of the Corinthia Hotel, London on Monday 20th May 2019.
From whimsical magic and fairies, with fresh florals and inspiration from majestic Roman Greek architecture the unveiling  six new designs was a spectacular evening enjoyed in the most elegant style.
This latest collection draws inspiration from historic architecture and dress fabrics and is my chance to show my love for creating intricate and show-stopping centrepiece cakes.
Each cake retains its own identity.  They are a reflection of my passion for creative sugar artistry as well as being delicious to eat!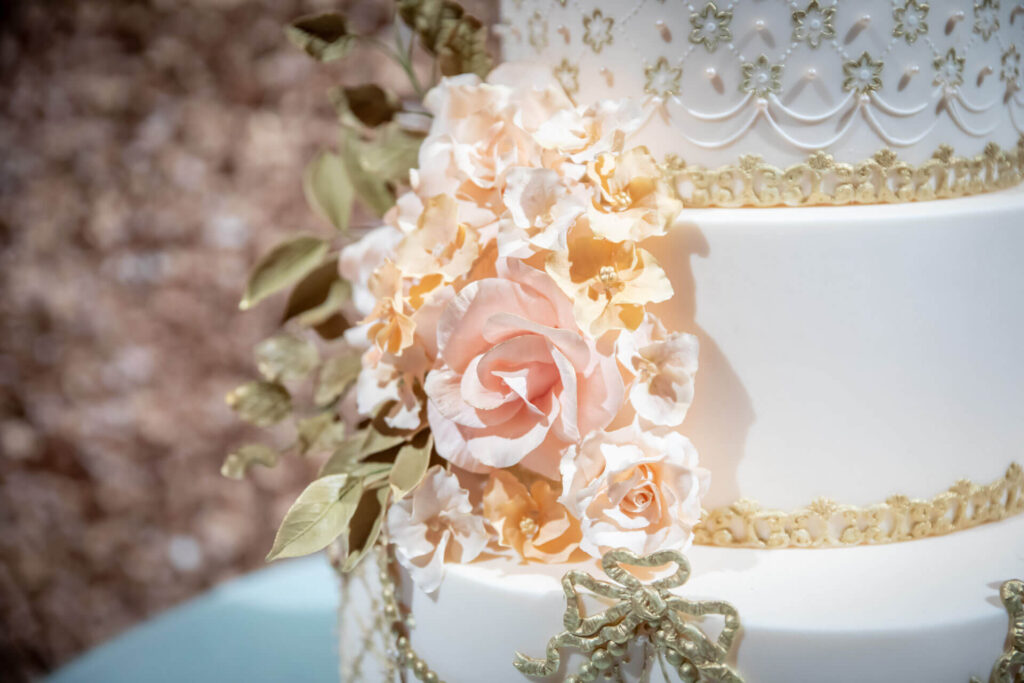 Detail from 'Elizabeth' inspired by the rich history of the Elizabethan era
The evening was a collaborative event with support from people whom I greatly admire. Famed florist Paula Rooney created spectacular floral displays inspired by each cake, alongside Twilight Trees and their show-stopping faux gold and blossom trees.
Bespoke Events London provided all the atmosphere, lighting and engineering to bring a hanging cake to a reality and fabulous furniture was provided by Greathire. Dress designer Chantal Mallett showcased a selection of dreamy dresses with model's hair and makeup by the talented H Beauty. Guests were treated to sumptuous canapés and sparkling wine by L'Enclos des Braves.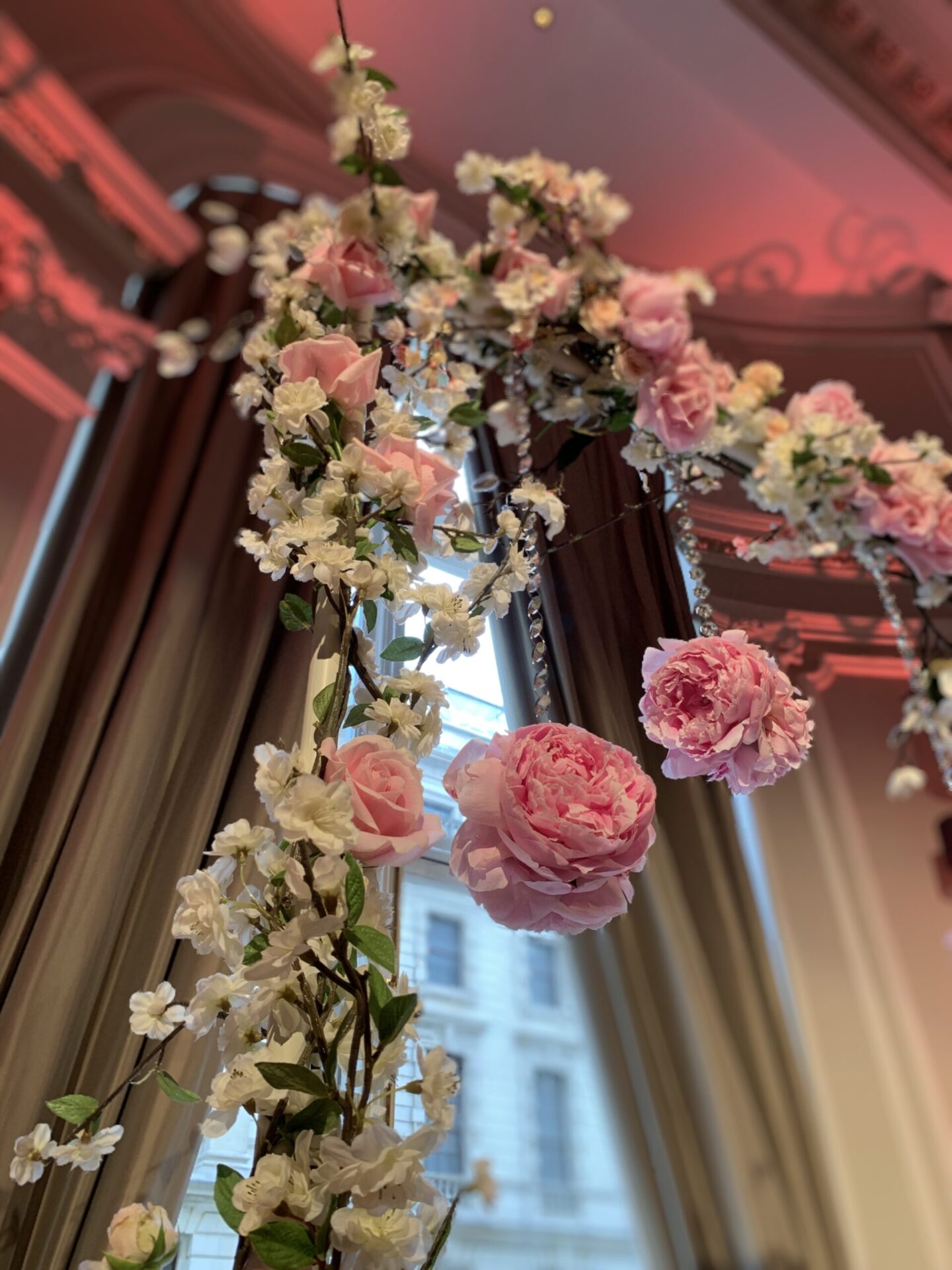 Beautiful floral arch designed and created by Paula Rooney perfectly complemented 'Ilona'
A personal highlight of the evening was watching guests sample the sumptuous offerings from the Luxury Dessert Table.  Cupcakes, truffles, macarons and mini-cakes were enjoyed in the splendour of the ballroom.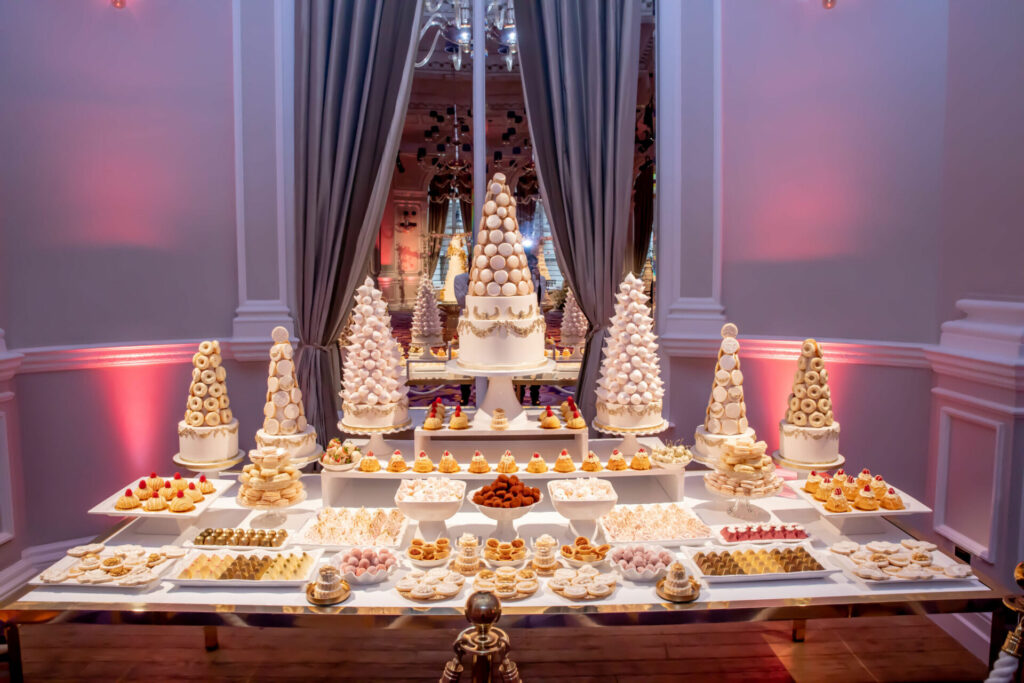 Luxury Dessert Table, part of the Enchanted Unveiling 2019/20 collection.Image courtesy of Andy Mac Photography & Filming
Every design has been created bespoke by hand and with love capturing every brides' dream with the range of styles from classic to contemporary to baroque.  I will always be inspired by my brides, their choices and their weddings and I want to give a piece of art, crafted with passion, for the best day of their lives.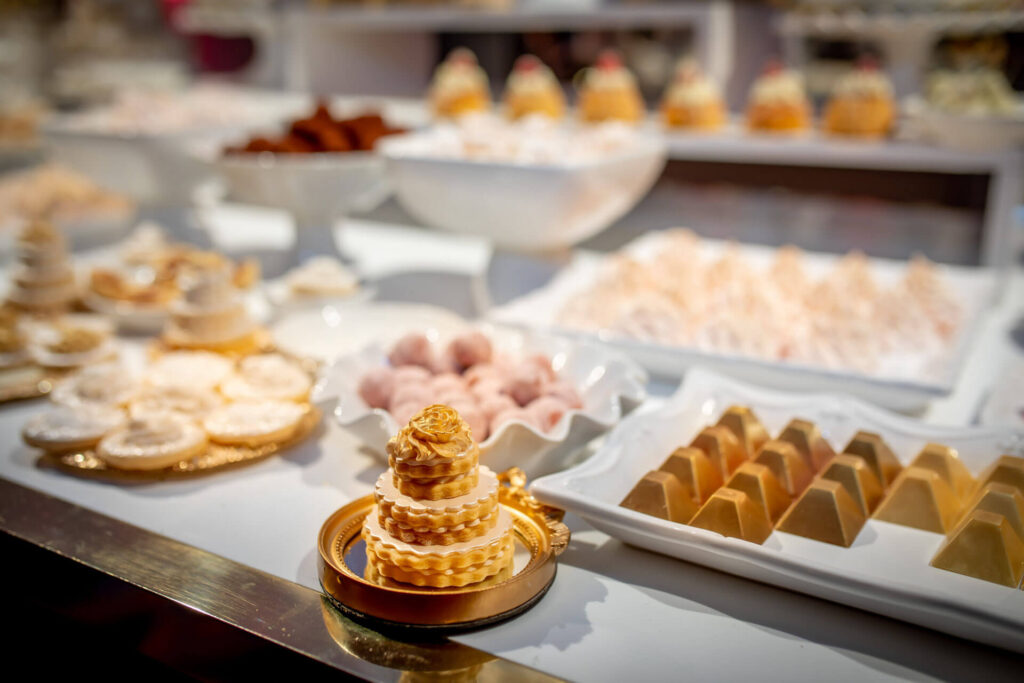 Sumptuous biscuits, chocolates, truffles macaroons and more! Image courtesy of Andy Mac Photography & Filming
Each cake holds a dear place in my heart whether inspired by history, a feeling or a flower and all are named after influential people in my life. People who have helped me to realise and enable me to fulfil my creative passion. Monday evening was a true pleasure and the culmination of months of hard work.  This collection is the start of a new chapter and I look forward with anticipation to the year ahead.
My gratitude, respect and heartfelt thanks go to all those who contributed for the most wonderful 'Enchanted Unveiling':
Venue Corinthia Hotel, London with Alexandra Pisani
Production by Bespoke Events
Flowers by Paula Rooney
Tree décor by Twilight Trees
Furniture by Greathire
Drinks Sponsored by L'Enclos des Braves
Official Photographer Andy Mac Photography & Filming
Official Videographer The Wedding Film Makers
Bridal Dresses by Chantal Mallett
Hair & Makeup by H Beauty
Photobooth by Photobot.Co
Invitations by Leeming Brothers
Music by ALR Music
Scented by Jo Malone