We're delighted to share with you images of our contemporary floral wedding cake design created on commission for a beautiful Lebanese wedding at Banqueting House in Whitehall, London.
Weddings at Banqueting House are always incredible and, when you're commissioned to design a contemporary show-stopping cake, only sensationally unique will do!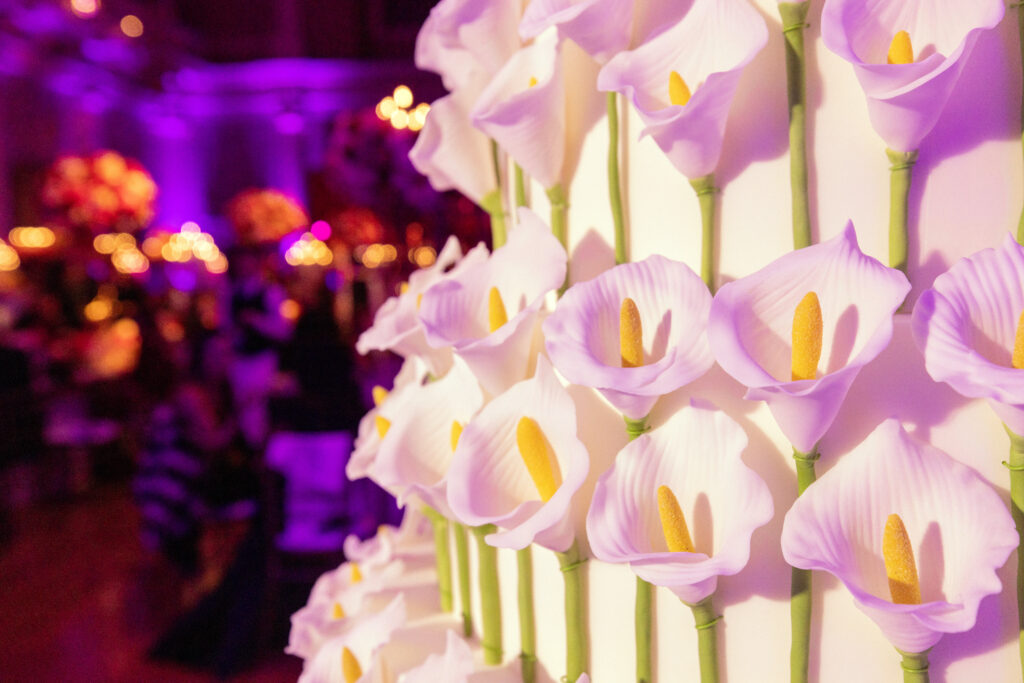 The Venue
The scale of the main room at Banqueting House allows for spectacular weddings with awe-inspiring tablescapes and opulent décor. Designed by famed architect, Inigo Jones, the ceiling of the hall exquisitely frames a huge oil painting by Flemish painter, Peter Paul Rubens. Commissioned by Charles I in 1629, as a celebration of the reign of the Stuart king the ceiling is a series of paintings on canvas cut to size and fitted to the frames.
As a prestigious venue from the Historic Royal Palace portfolio, this is one of the most splendid event spaces in London!
The Cake
Our brief was to create a statement contemporary floral cake. And a statement it was! Designed on a grand scale, our impressive cake towered at a magnificent height of 50″ and a base of 30″ wide. All 7 tiers were decorated with over 500 hand-crafted calla lilies, each hand-made in our delicate sugar paste.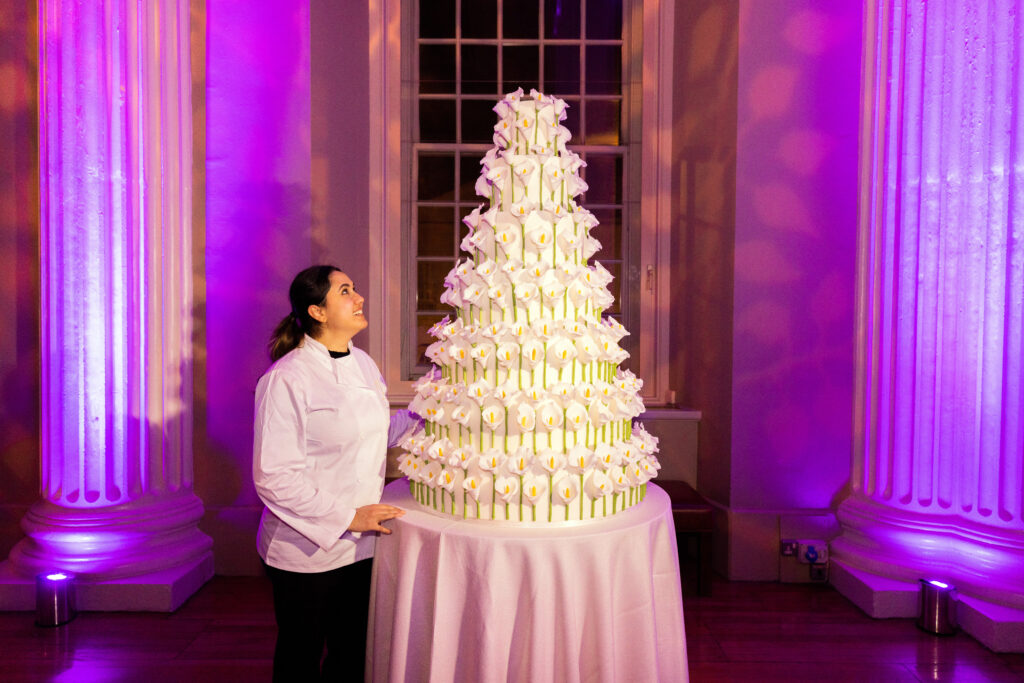 Our couple chose the most delectable combination of almond Bakewell sponge with silky smooth almond flavoured Swiss meringue buttercream, enveloped in white chocolate ganache beneath our luxury fondant.
For added drama, we wheeled the cake down the central aisle of Banqueting House and into position mid-dances, ready to be cut by the bride & groom!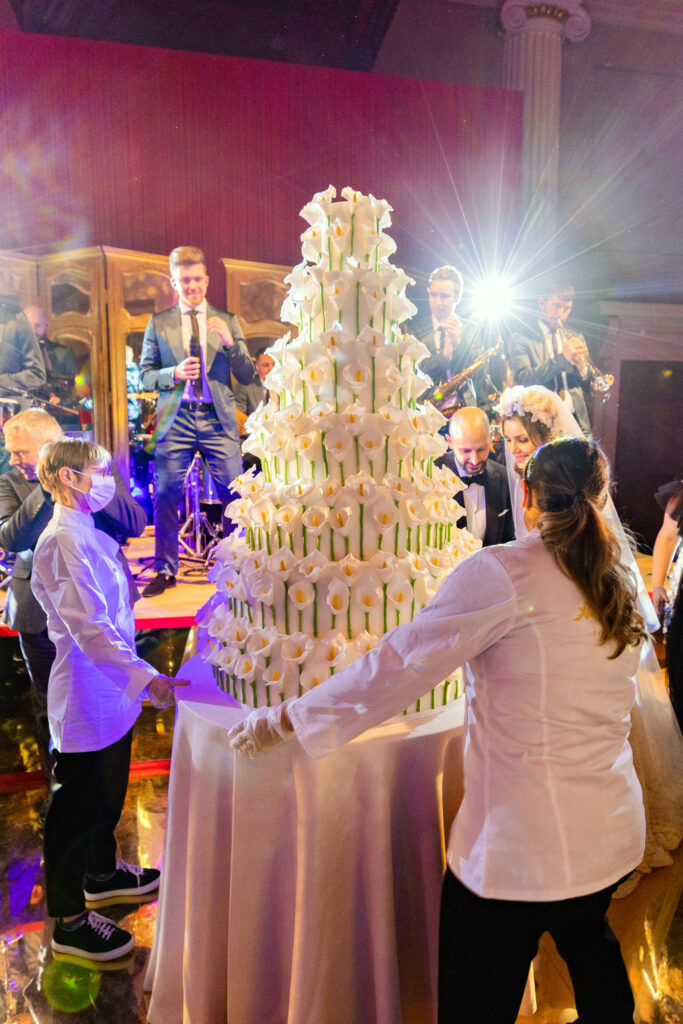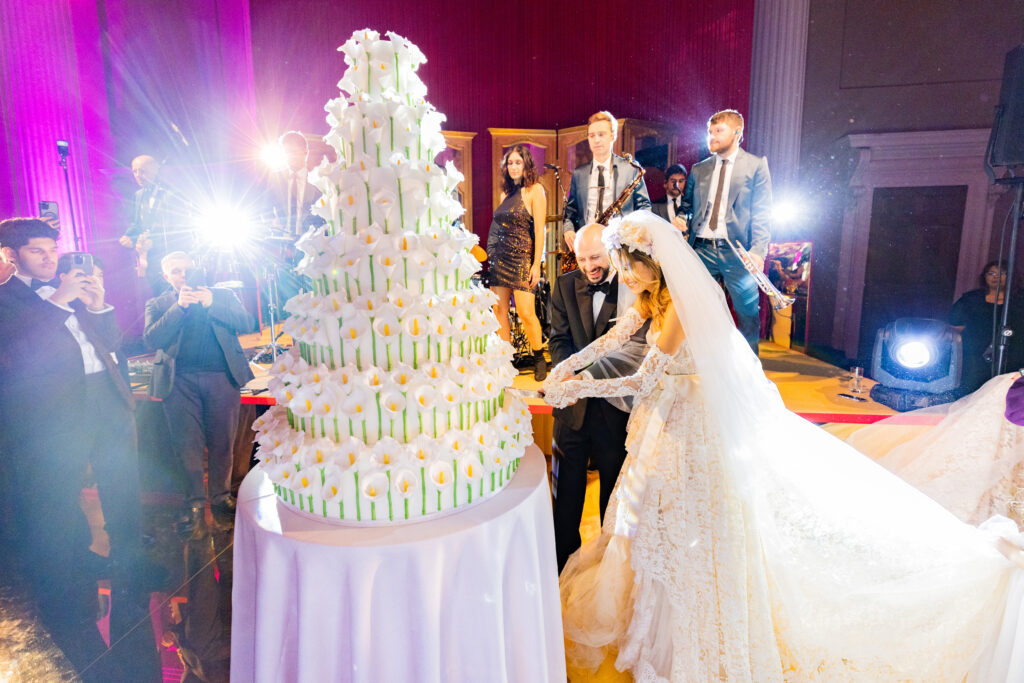 Wedding cakes on this scale take a great team to create! Assisting Yevnig on the night was our fabulous baker Chris. Big thanks also go to our talented sugar crafters Ilona and Sarah who worked so-very hard on the preparation of all those flowers!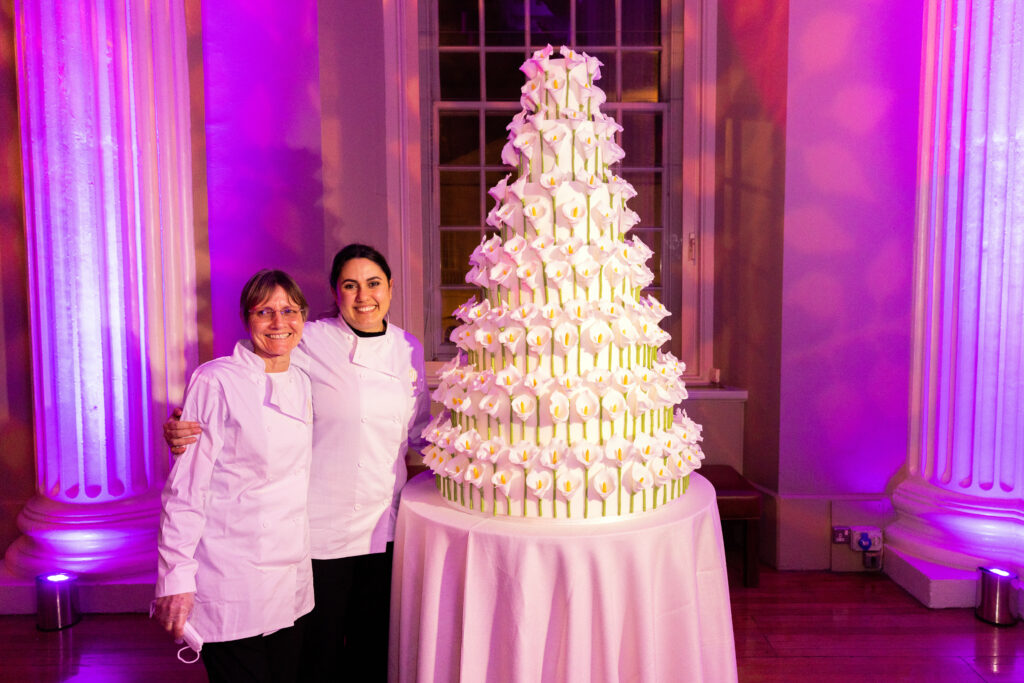 Gallery of Images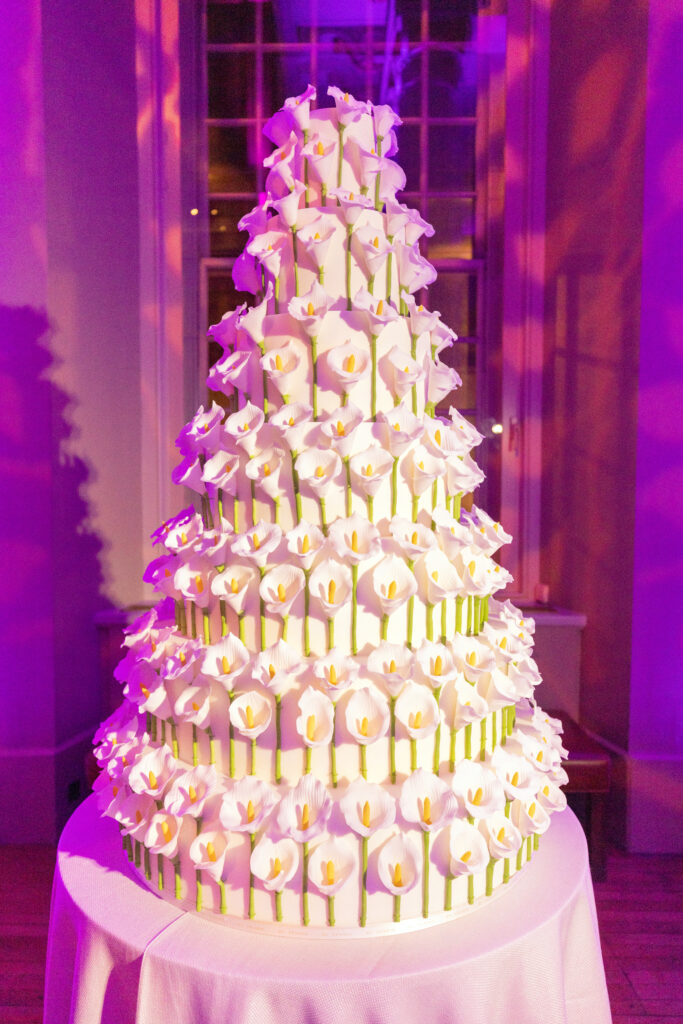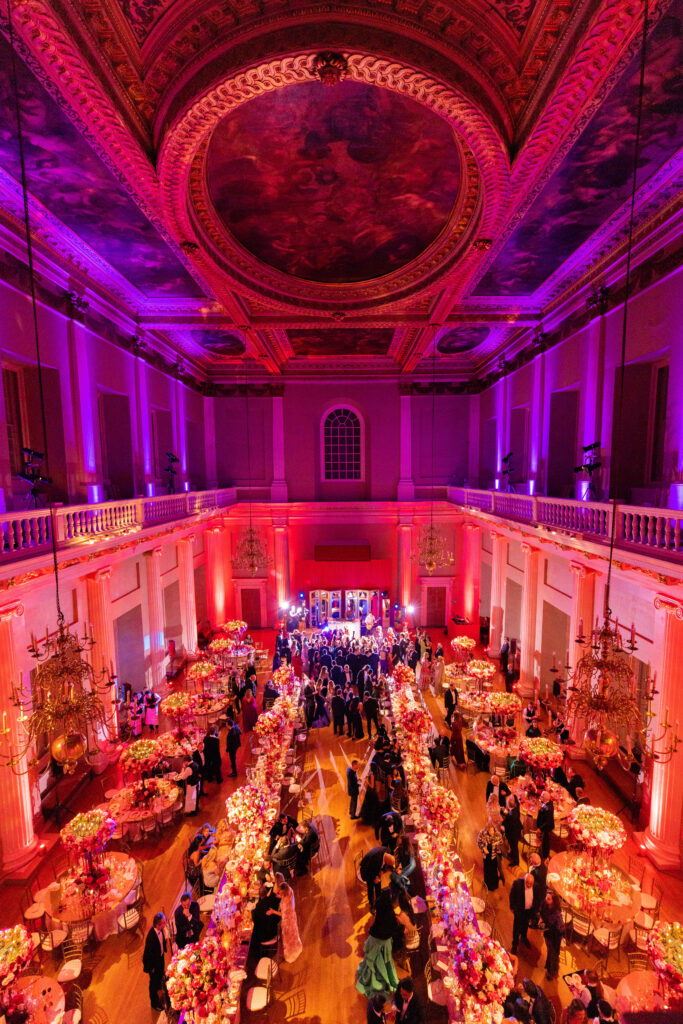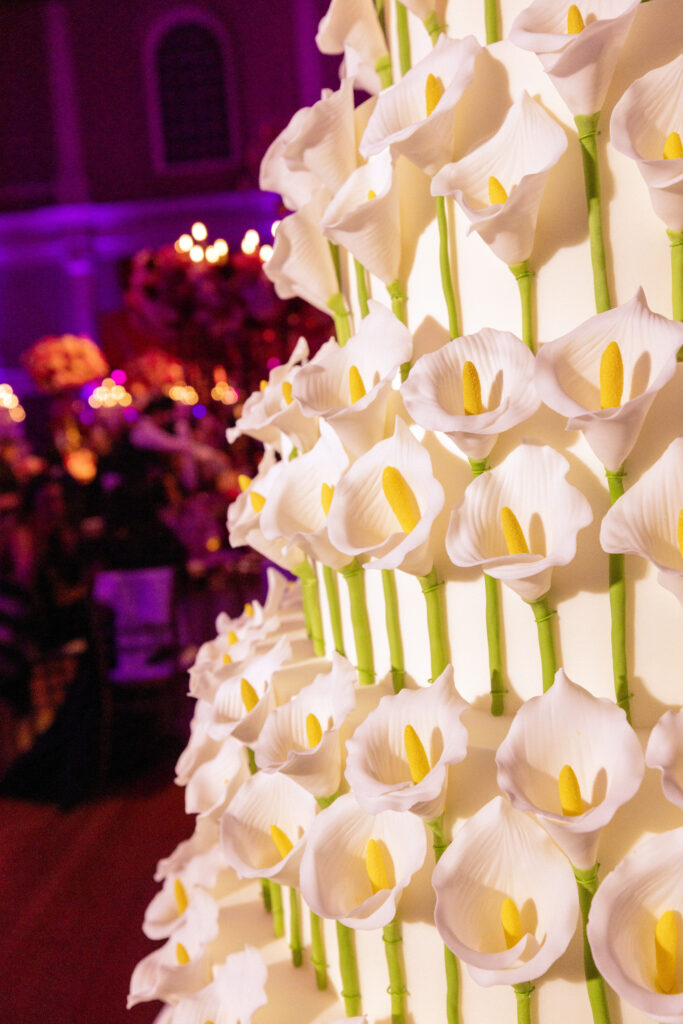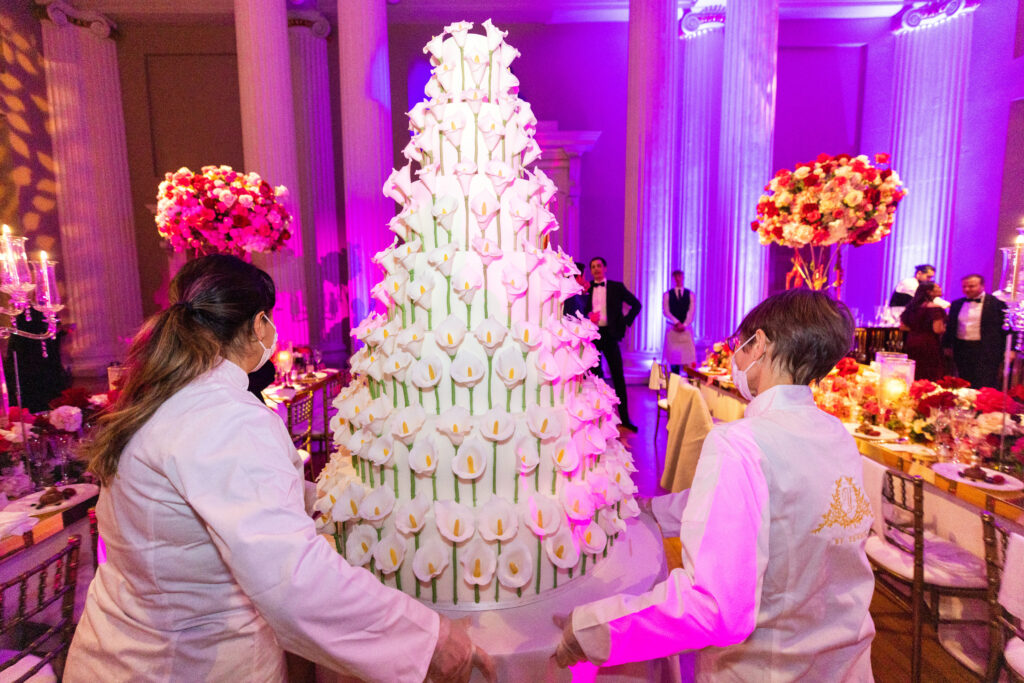 The Wedding Team
Venue: The Banqueting House, Historic Royal Palaces 
Planning & Styling: Bespoke Events London with Historic Royal Palaces Events 
Photography: Xander Casey 
Catering: By Word of Mouth 
Florals: Wild About 
Furniture: Options Great Hire 
Contact By Yevnig
Your By Yevnig bespoke wedding cake journey starts with a consultation. We'd be delighted to hear from you. Please contact us via our enquiry form.