In celebration of the coronation of King Charles III and Queen Camilla, we're delighted to share the inspiration and story behind our very regal cake, 'Imperial Magnificence', a cake fit for a king!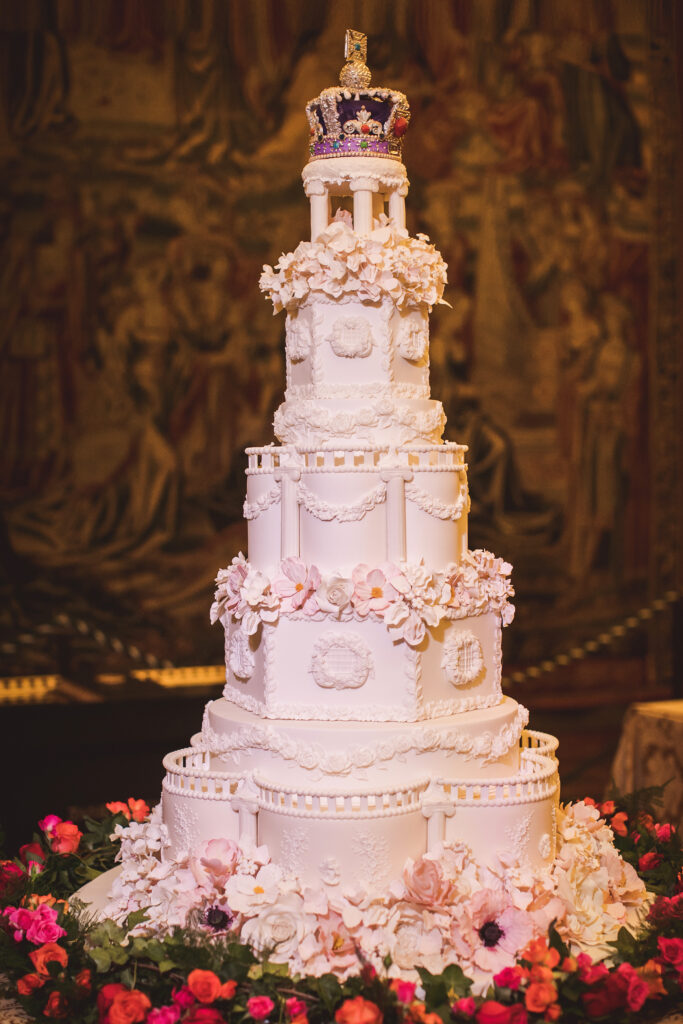 About the Cake
Designed on commission with the Historic Royal Palaces for an event at Hampton Court Palace, Imperial Magnificence is a commanding 97cm in diameter and 128cm in height. It has 6 tiers of varying shapes including petal and hexagonal with decorative elements such as columns, sculptural floral swags in relief and delicate sugar flowers.
Sitting atop this ivory show stopping centrepeice is a representation of the Imperial State Crown which King Charles III will reportedly be wearing as he makes his way back to Buckingham Palace after the coronation ceremony at Westminster Abbey.
The original crown boasts approximately 3000 gemstones, pearls, sapphires, emeralds and diamonds including the Second Star of Africa and the Black Prince Ruby which dates back to the 14th century.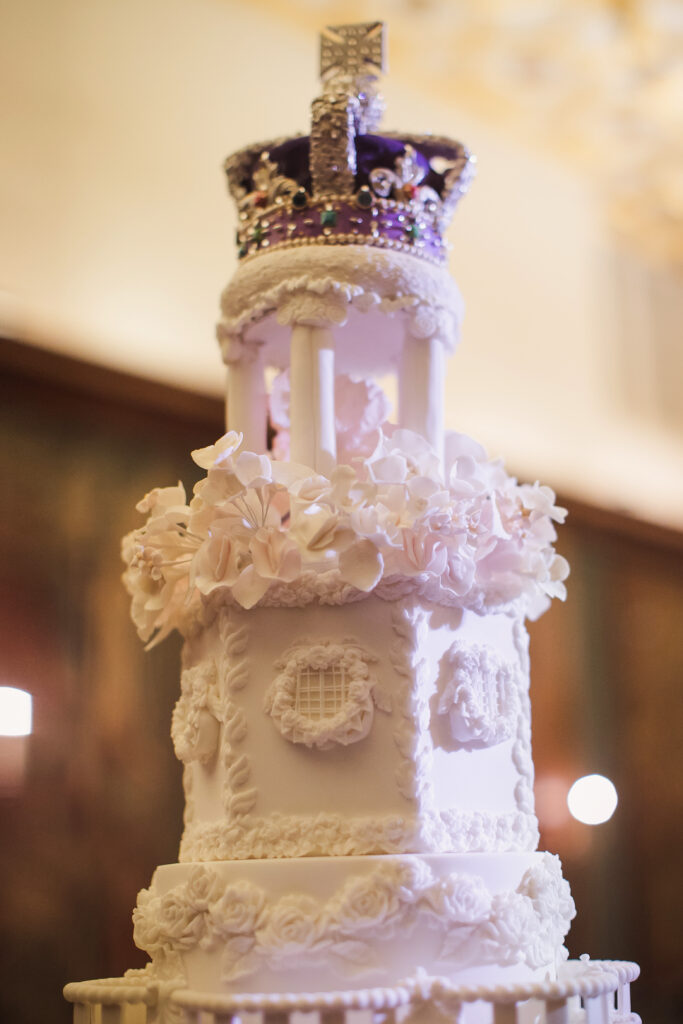 Inspiration
Opulent with height, breadth and depth of detail, this magnificent cake showcases Yevnig's creativity, and mastery with the design inspired by the UK's Royal Palaces. Each element of this impressive cake pays homage to the architectural details of some of the finest buildings in the UK with floral detailing a nod to the beautiful flowers found in their gardens.
Description of the tiers
The Base: a custom 38" stepped pedestal which was inspired by the grand entrance to Hillsborough Castle.
The 6th Tier (lowest): a tall petal tier to represent the 6 Historic Royal Palaces, with pillars from Banqueting House and Hillsborough Castle. Cherubs and the crest of petite flowers are inspired by the Ante-Chapel at Hampton Court. The top of the tier features the balcony of Banqueting House.
5th Tier: swags of rosette chains draw their inspiration from planters in the Kew Palace garden.
4th Tier: the famous Hampton Court cloisters and elements of Rubens' baroque ceiling at Banqueting House feature on each face of a striking hexagon-tier.
3rd Tier: an elegant petal shaped tier with swags of rosette flowers in a variety of sizes, along with pillars and balcony attributes from Banqueting House.
2nd Tier: swags of rosette chains draw their inspiration from planters in the Kew Palace garden.
1st Tier: baroque features on each face of the hexagon tier capture the style of Rubens' grand ceiling at Banqueting House and cloisters from Hampton Court.
Topper: inspired by the pillars of the Lady Alice's Temple at Hillsborough Castle, our grand cake is topped by the Imperial State Crown, as kept under armed guard at the Tower of London.
Flower Rings: a garland of delicate handcrafted sugar flowers pay tribute to Lady Diana's favourites, including Helen Elisabeth Oriental Poppies, Cosmos, White & Blush Sweet Pea, Hydrangeas, Blossoms and Apricot Beauty Tulips, as showcased in the gardens of Kensington Palace.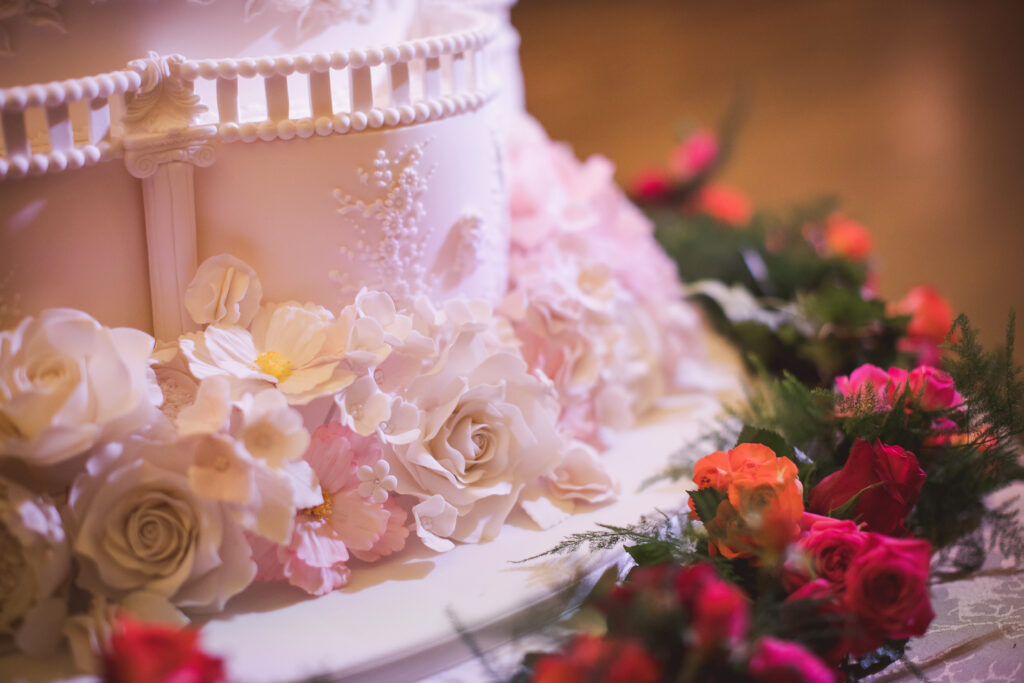 THE FLAVOURS
Each Royal Palace was also represented by the flavours of the cakes chosen for their cultural, historical, botanical or colourful connection to each venue.
Earl Grey – Tower of London
Red Velvet – Kensington Palace
Blueberry & Lemon – Hampton Court Palace
Orange – Banqueting House
Pistachio & Rose – Kew Palace
Lavender – Hillsborough Castle
Credits:
Cake: By Yevnig
Venue: Hampton Court Palace
Planners: Historic Royal Palaces Events
Photographer: Nick Rose Photography
Fresh Florals: Lavender Green Flowers
If you have an event that you'd like to celebrate with a bespoke cake designed to mark the occasion, we'd be delighted to hear from you! Please complete our enquiry form to tell us about your event and we'll be in touch very soon to book a consultation with you.