Christina and Giulia wanted a wedding cake to celebrate their love, a beautiful love which shines from them. They also wanted one which reflected their same sex relationship. There really was only one design option, a contemporary bold By Yevnig, radiantly unforgettable, rainbow pride wedding cake! This cake is a celebration that above all and no matter what, Love Wins.
The Cake
Five tiers of deliciousness with a mix of flavours and fillings. For the bottom and 3rd tier, our couple chose our light and fluffy white chocolate and raspberry sponge with a raspberry Swiss meringue buttercream. For the 2nd and top tier, they selected the most deliciously moist Guinness chocolate sponge with a vanilla Swiss meringue filling. Completed with a dark chocolate truffle coating, covered with white royal icing with a rainbow splatter design and white sugar roses. The cake was finished with a striking contemporary crystal modern rice paper decoration in vibrant rainbow colours and edged with edible gold leaf.
The Wedding
Set in the beautiful house and grounds of The Four Seasons Hotel, Hampshire, our couple celebrated their love with family and friends. Traditional white wedding dresses, stunning tablescapes, fresh florals, glitter balls and huge illuminated letters! This wedding had it all.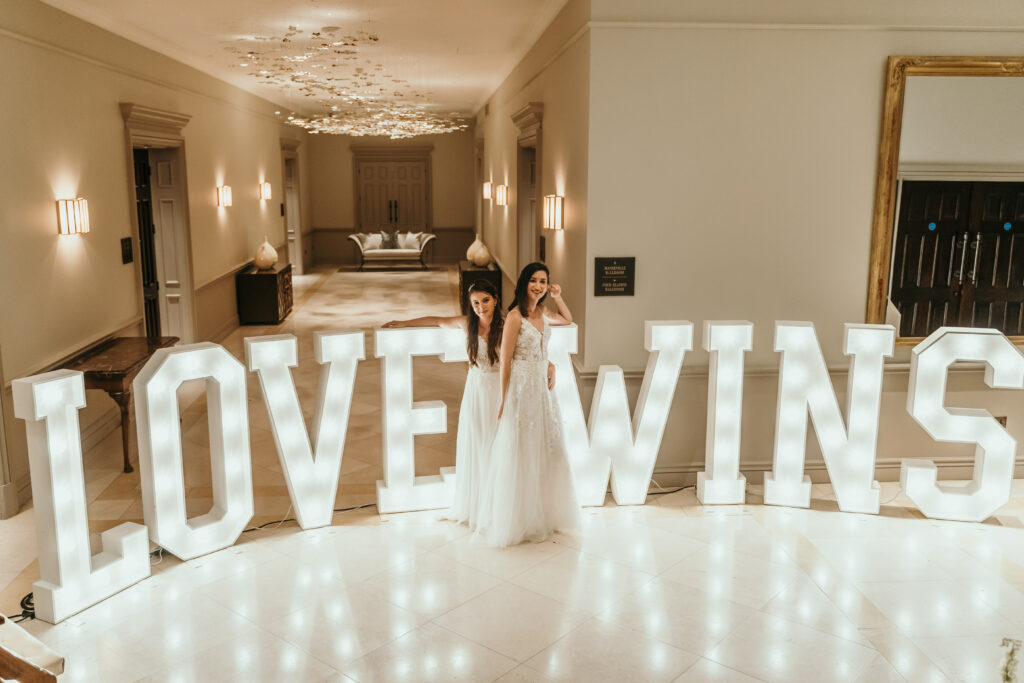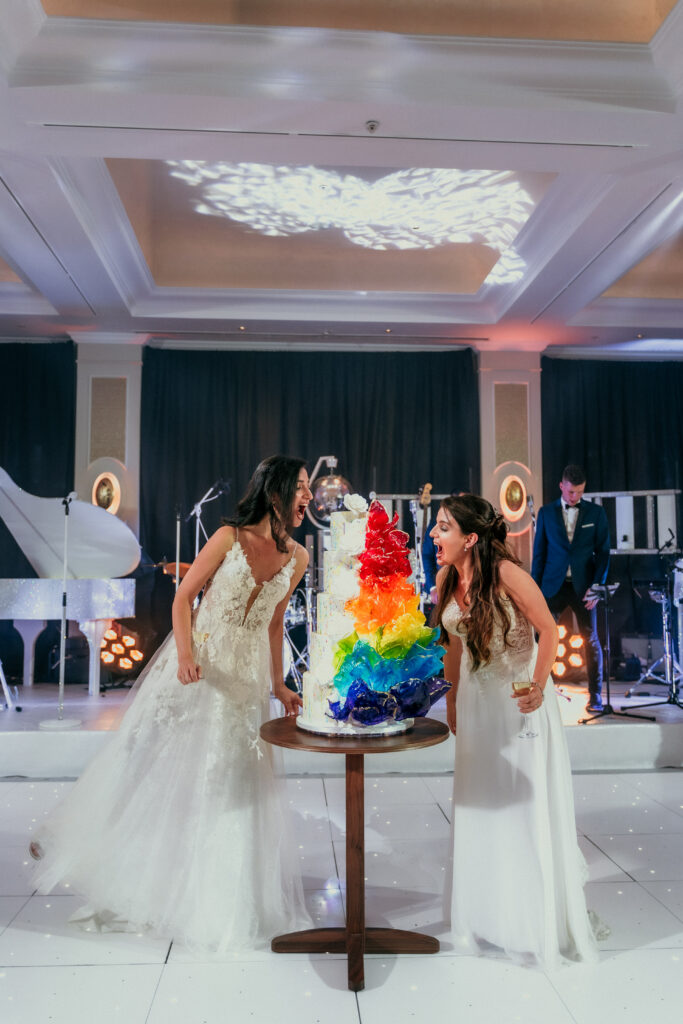 It was an honour to design and make such a striking cake for one of the most wonderful couples that I have met. It is also a huge privilege to share images from their fabulous wedding day with you. The icing on the cake, a five-star review from the newlyweds:
Yevnig has an eye for creativity and understanding people's needs! Everything from the design consultation and cake tasting was so well organised and flexible! It really felt like we could completely tailor our wedding cake experience. On the day WOW, what a beautiful cake. It was also so delicious that our guests were talking about it for days to come! Giulia
The wedding team,
Venue & event : The Four Seasons Hotel, Hampshire
Photography & Videography: The Flamingo Society
Lighting: 3 Point Lighting
Music: The Sparkle Band
Florist: Paula Rooney Floral Designer
contact by yevnig
Your By Yevnig bespoke wedding cake journey starts with a consultation. We'd be delighted to hear from you. Please contact us via our enquiry form.