We're delighted to see our latest luxury Wedding Cake and Dessert Table showcased in the stunning Khush Magazine, courtesy of features editor, Abah Shah.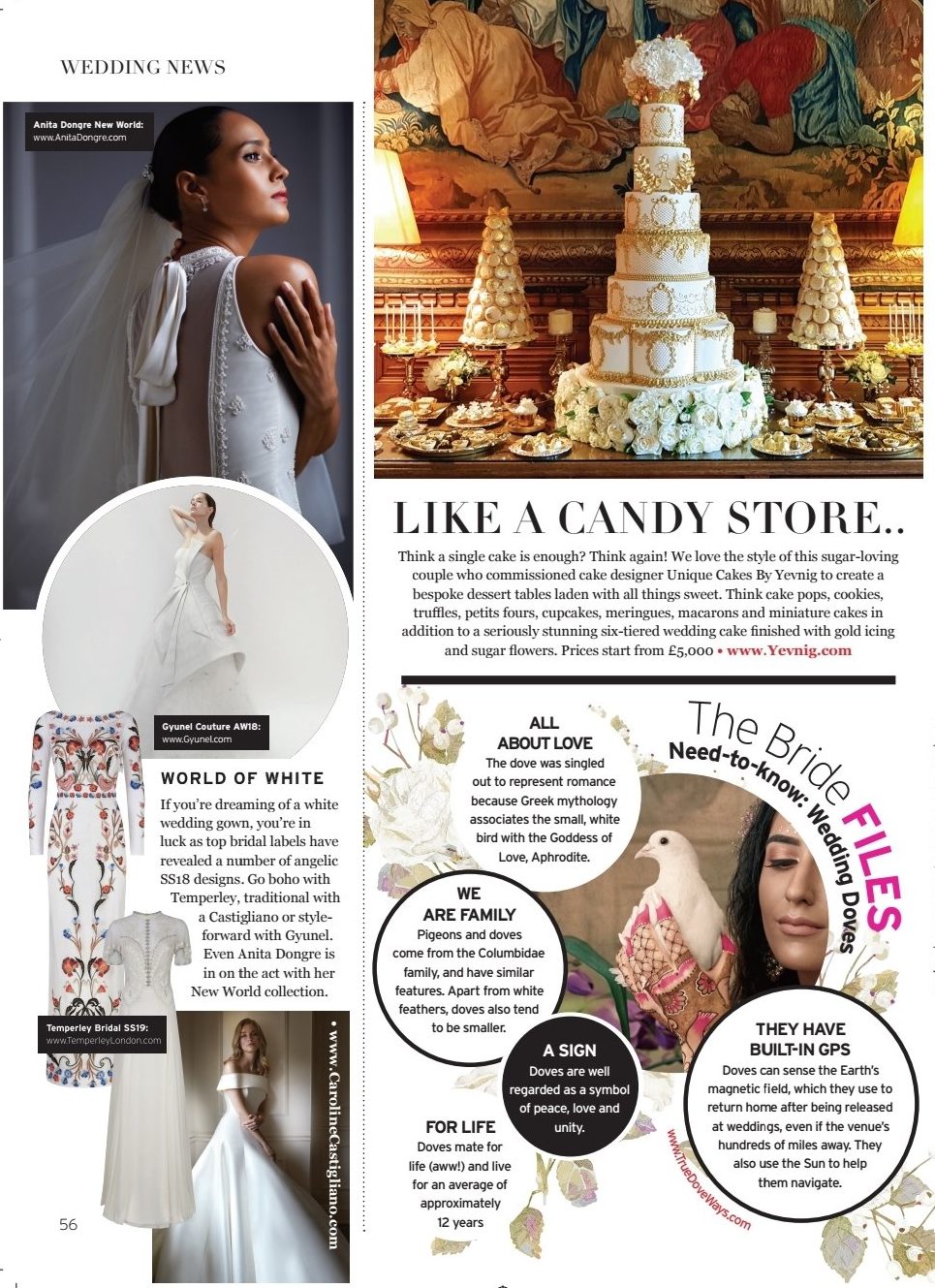 Luxury Wedding Cakes and Dessert Tables 'Like a candy store…'
It was a true pleasure to create this stunning grand centrepiece wedding cake and delectable dessert table for our special couple, with the guidance and expertise of luxury event planner Samantha Poole of Bubbles and Buttonholes.
Our six-tier 'Regina-Luxe' showpiece Wedding Cake is a true masterpiece of creative cake design.
Working closely with Samantha, we combined beautiful decorative elements with the most-delectable of cake flavours to create a real show-stopping centerpiece, perfectly complementing the grand surroundings of Eastnor, one of the UK's finest historic Castles.
Finished in luxury Ivory and Gold, the Regina-Luxe is topped to perfection by a regal bouquet of handcrafted sugar Dahlias, Roses, Eucalyptus and Foliage.
Abundant hand-piped royal icing and lacework, highlighted in gold, reflects the intricate texture of bride's vale along with gilded pearls and jewelled chain with gold highlights.
Surrounding their initials, a garland of gold sugar leaves recreate the couple's monogram crest. At the base, a petal-shaped tier is decorated to complement the beauty of the castle and its historic features, with rosette swags and bows in gold.
Oval mesh features, surrounded by petite hand crafted rose-buttons, also highlighted in gold establish a true regal and stately feel.
In addition to the main cake, a decadent and luxurious bespoke Dessert Table, brimmed with the most delectable of treats:
* Salted Caramel Macaron Towers in gold shimmer & highlighted in gold leaf and in satin ivory.
* Trays of Chocolate Pyramids, decorated with 24 carat gold leaf and a hand-crafted delicate sugar flower.
* Trays of individually decorated luxurious Cookies, topped with frilled sugar flowers with gilded tips.
* Elegant Cupcakes with domed top, swag royal icing and sugar rose highlighted in gold.
* Moreish Fondant Fancies, adorned with gold leaf and gold cases.
* Trays of petite Tartelettes filled with Dolce de Leche caramel and tipped with gold-leafed pecan nuts.
* Shimmering Champagne Cake Pops delicately detailed in of gold leaf with a bow-tied organza ribbon and mini gold case.
* Moreish Kiss Meringues in ivory and gold.
* Bowls of luxury Chocolate Truffles in White, Milk, Dark and Salted Caramel.
* Signature Miniature Cakes on tall candle columns with dainty detailed piping and large handcrafted sugar flower topper.
* Chocolate dipped fruits with gold leaf detail. Artistically styled, the impressive selection was impeccably displayed on luxury tableware and props, all part of the bespoke and individual service supplied by Yevnig."
Suppliers who took part included:
Bespoke Wedding Cake & Luxury Dessert Table: Unique Cakes by Yevnig
Wedding venue: Eastnor Castle
Wedding Planner: Bubbles and Buttonholes
Wedding Photography: Tobiah Photography
Wedding Video: The Wedding Filmmakers
Wedding Flowers: The Great British Florist
Wedding Dress: Suzanne Neville
Bridal Shoes: Emmy London
Decor and Tableware: Duchess and Butler
Wedding Music: Eight Ray Music
Pianist: Okiemo Official